State-of-the-art in car body shell restoration
Autobodies significantly changed in the last years and so did the restoration technologies for car body shells. Damages to modern cars cannot be repaired professional by convetional techniques. The MIRACLE-System is an appropriate alternative.
The advantages of the Miracle Flattening System:
› Professional and fast repair
› Original parts remain, no substitution
› Car structure and corrosion protection stay intact, as far as possible
› Low labor costs
› Little thermal influence
› No disassembling of inner lining, roofliner, electronics, built-in components etc., because the work is done from the outside
› Optimal flattening of straight optical edges
› Approved and recommended by leading automobile manufacturers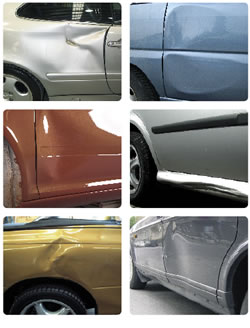 How it works
At first the existing lacquer will be removed from the damaged spot. Metal-bits will be attached to the damaged spot in short intervals. The little thermal insertion during the temporary welding of the bits avoids burning on the back of the steel plates. Thus the existing corrosion protection on sills, doors, etc. won't be affected.
The original state of the material will be restored by using a special technique called "Walken", whereby gentle draft and pressure will be exerted on the material, by using different tools, according to the degree of damage.
The specific and gentle recovery avoids an overexpansion of the material. This overexpansion happens frequently when using conventional techniques. The residual stress of the damaged spot will be loosened by slight beats of an aluminum titanium hammer. Finally the bits will be removed manually.
12 traction devices – 1 system
Damages at every point of the autobody shell are going to be faster and more professional repaired by 12 traction devices of the Mircale System. Big damaged surfaces, strip damages and difficult dents for example can be easily and fast restored with the Miracle-Easy-Puller.