What and how we lacquer
So much before:
We lacquer everything you'll bring us.
Ranging from a garden chair over a sailing boat to an airplane.
The classical car lacquering will be done in a special paint shop with exhauster. Afterwards the car will be dried in a separate room under a special temperature.
We possess Smart Repair Workstations for small repairs. Scratches or bumpers will there be repaired in a fast manner. Mobile infrared dryer shorten the period of repair additionally.
We use the sandblast technique for efficient pickling furthermore.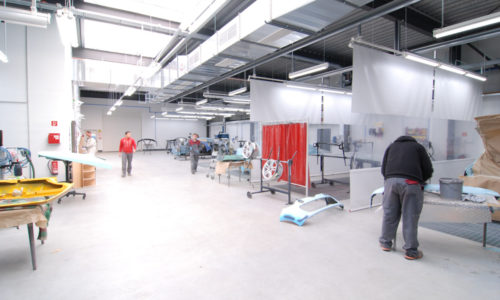 Which lacquer do we use?
The automobile industry does not leave customer satisfaction to chance. Scientists, consulting engineers and designers have been engaged with the technique, the form and even the lacquer for many years, before a new car model gets on the market.
You should set a high value on a perfect repair varnishing, regarding this amount of- and expensive development work.
Most automobile manufacturers have established an accreditation for repair lacquers, the so called approvals, to ensure the customer satisfaction, which is also close to our hearts.
An approval is a recommendation of the automobile manufacturer or his German importer, to use products or product systems of a lacquer manufacturer for the repair of the respective car model. We just use lacquers of those manufacturers. Above that our lacquerers constantly take part in training courses of the lacquer manufacturers.
We exclusively use high quality water lacquer in combination with new environmentally sound techniques. We recommend you the right lacquer for your individual lacquering and give you an intensive technical advice.
What you can expect
You can expect well-engineered lacquer techniques and a service that will fully please or even elate you, with prices that do not have to fear competition.
Reasons for our company summed up:
› Intensive technical advice at face
› Use of high quality lacquers
› Use of environmentally sound techniques
› Expertise through longtime experience
› Keeping terms
› Pick-up and drop-off service
› Provision of replacement-vehicles